[You must be registered and logged in to see this link.]
[You must be registered and logged in to see this link.]
Jared Gerritzen, Creative Studio Head of Zombie Studios visits
Machinima to talk about Blacklight: Retribution and why it's an awesome
Free to Play game. Check it out, and then leave a comment on the video!
[You must be registered and logged in to see this link.]
now begun! All progress made on your characters from this point on
will be permanent. Read on to check out the official launch trailer!
[You must be registered and logged in to see this link.]
events! Three awesome events that test everything from your skill to
creative abilities are planned to run, so read up on them below to
prepare.
[You must be registered and logged in to see this link.]
[You must be registered and logged in to see this link.]
A brand new video intelligence report is now online, this time
covering the expansive Heavy Metal map. Get up to speed on this
battlefield's numerous chokepoints and nuances by watching the video
below.
[You must be registered and logged in to see this link.]
[You must be registered and logged in to see this link.]
Hot off the video presses comes Blacklight: Retribution's latest
Intel Report, featuring the Piledriver map. Give it a watch and keep
your self sharp for the battles ahead.
[You must be registered and logged in to see this link.]
With the last day of Closed Beta fast approaching, we'll be ending
things with as big of a bang as possible by maxing out the server
capacity in a be all end all stress test event.
[You must be registered and logged in to see this link.]
[You must be registered and logged in to see this link.]
event! Earn an exclusive golden helmet armor piece for open beta by
using the newly implemented matchmaking system.
[You must be registered and logged in to see this link.]
[You must be registered and logged in to see this link.]
[You must be registered and logged in to see this link.]
[You must be registered and logged in to see this link.]

*Update 4:10AM Pacific 01-06-2012* After taking the
Blacklight servers offline and investigating an unexpected problem
effecting some users we are continuing work on rolling back the update
and getting the servers back online with the previous CB build. We have
identified the problem and are working on a solution so that everyone
can enjoy the new patch soon.
If you patched last night - You will need to re-install
Blacklight via CORE Client to get back in and play in the Closed Beta.
We would not have been able to identify the problem so quickly and
prevent others from having it without your help.
If you didn't patch last night - You don't need to do anything to play... and your bullet dodging skills are unrivaled.
New:
-Players now get CP for killing Rival Agents.
-Players can now activate Hardsuit Ping tactical item when in a Hardsuit with either the HRV key or the tactical key.
-Turned up 1st person assault rifle audio.
-All weapon mods can now affect the visual tight aim recoil.
-Change detailed stats on scoreboard/playerlists to popup into the item list and not down.
-The detailed stats now auto popup in the scoreboard if the scoreboard is left open for 1 sec.
-Some visual changes to the detailed stats popup.
-Changed Teamspeak audio settings to conform to the standard 0-10 values.
-New Depth of field post process effect.
-New Burstfire Rifle audio added.
-Added new grenade sounds.
-HUD chat now has 128 char limit and wraps.
-HUD now has new combat log design.
-Added new combat rifle audio for 1st and 3rd person, with near mid and distant blends.
-Added support in video settings for borderless windowed mode.
-Added more audio bite to the LMG.
-Added new widget for resolution selection in video settings.
-Added new Bolt-Action Rifle audio for 1st and 3rd persons, mid and distant versions.
-Added a unique explosion for the grenade launcher.
-Items unlocked via the skill tree are now unlocked via rank. Skill tree has been removed.
-"Server Browser" button is now called "Play Game".
-Audio tweaks to the HE and Frag Grenades.
-Intermission now flashes when match starts.
-Time to scope in and time to tight aim mod stats now added to stocks and scopes.
-Added support for purchase-time item activation.
-Added a successful purchase message even when item activation fails.
-Changed quick-purchase options to preferred purchase options.
-Armory and store now communicate what the unlock requirements are for each item.
-Added new Burstfire Rifle animations for first person.
-Added new sounds for the grenade launcher and the airstrike.
-Added support for modification of the crosshair/reticle from the settings menu.
-Added new HRV Duration stats for pawn mods.
-Changed our dialog box appearance.
-New Shotgun fire audio.
-Player dialog added for impacts and hit effects.
-Added crosshair colors.
-Added new Shotgun audio to the game.
-Smart reticle enable/disable option is now changed to an opacity value.
-Added green Blacklight skull emblem.
-Added filters to Customization: "Hide Locked" and "Only Owned".
-Updated Exit Game button icon.
-Updated Server Browser to show what was being sorted by. Player can click to change sorting options.
-Added idle kicking. Players who haven't spawned in or moved for 3 minutes get the boot!
-Added new camera for character creation process.
-Changed default colors of character.
-Changed server sorting dropdown to account for UI changes.
-Updated SMG third person reload animation.
-Added new silenced Combat Rifle and SMG audio.
-Added a "Do you want to apply changed settings" dialog to video settings when trying to navigate away with unapplied changes.
-Intermission now shows the result of the map skip vote. Whether it failed or succeeded.
-Auto weapon switch now controls all auto weapon switching. Enabled
means you will auto switch at weapon depots as well as when running out
of ammo. Not auto switching means you won't do either of those.
-Added audio for a headshot.
-Added new audio for the Burstfire Pistol.
-Hooked up new node count widget that shows how many nodes are capped by each team.
-Removed "thought they could fly" when changing teams.
Fixes:
-Messages in chat will no longer appear in the after action report.
-CP is no longer gained from inactive TKOTH points.
-CP is no longer gained from a TKOTH point after the game ends.
-Can no longer deploy barricades or turrets while in the air.
-View Last Match should be functioning correctly.
-Settings menu remains responsive after opening the loadout or clicking on a player during intermission.
-During intermission, the loadout screen now correctly transitions to Customization.
-All muzzles should play their correct sound effects.
-Depot item prices in Customization now correctly match their in-game values.
-Removed duplicate chat channels that showed up when reopening the social tab.
-Crouching players can now enter hardsuits.
-Deathmatch is now scored correctly.
-Items should now last their full durations.
-Various grammatical errors.
-Helmets no longer occasionally reappear after being headshot.
-Hacked points are now recorded correctly if you run away before the point captures.
-Stats in Customization now update correctly when you select items.
-Can no longer activate items beyond the maximum amount allowed.
-Animations for the .45 Pistol have been adjusted.
-Camo can now be seen in 3rd person on the 9mm Pistol.
-Improved team balancing between rounds.
-Footstep audio has been added to some areas that were missing it.
-Customization will no longer crash with the details tab open.
-MLAA is now working properly.
-Frag and HE grenade stats should now be listed properly.
-Player names are now hidden by Digi Grenades.
-Crosshair will not turn red when spotting enemies through Digi Grenades.
-Changed SMG audio.
-Rockets will no longer blow up when a teammate runs in front of it.
-Combat log colors have been corrected in Deathmatch.
-Extra CP will not be given from team switching suicides.
-Fix for some textures being corrupted at low texture settings.
-Gear items now show proper emissive colors when being held by an enemy.
-Gray lines should no longer appear after HRV use on low settings.
Balance Changes:
-Electro ammo now does 120% damage to Turrets and Hardsuits and no longer slows down players.
-Increased cost of Rocket Launcher. Reduced the total rounds.
-Equipping a barricade and having it on your back will now impact your
run speed. The speed penalty is removed once the barricade is deployed.
-Improved Assault Rifle spread.
-Reduced damage of Burstfire Rifle.
-Reduced movement speed of associated with some weapons.
-Increased Combat Rifle damage and improved spread.
-Players will no longer be removed from Tight Aim when shot while using the Bolt-Action Rifle.
-Barricade no longer persists through death.
-Barricade now reduces damage taken while on your back by 70% instead of blocking 100% of damage.
-Tactical gear items do not get replenished by using Ammo Refill at a weapon depot.
-Adjusted scope stats.
[You must be registered and logged in to see this link.]
[You must be registered and logged in to see this link.]

Servers will be down for maintenance at 6PM Pacific time, and will be offline for an hour.
• Fixed a weapons-related memory leak.
• Skills no longer reset when joining or leaving a game.
• Hacks, Captures, Attacks, and Defends are now listed properly in the scoreboard stats.
• Added an XP bonus for killing your Rival Agent.
• Team names should now appear properly when joining a game in progress.
[You must be registered and logged in to see this link.]
[You must be registered and logged in to see this link.]

New Features:
• Voice chat is now functioning.
• Added functionality for Hardsuit HRV Ping and Hardsuit Battle Mode.
• Stun Mines will now stop a Hardsuit from moving for a short time.
• Hacking Skill added to the skill tree. Hacking is now more difficult without this skill.
• In Domination and King of the Hill game types, you can now earn CP over time by standing near a point.
• Weapon Hangers are now unlocked each time you level up.
• It is now possible to lunge forward with melee weapons if you are within range of an enemy.
• You can now strafe while sprinting in the Hardsuit.
• Players who are taking fire damage now have visible flames on their bodies.
• The Hardsuit now has a taunt animation.
• You can now view the previous game's match results in the Intermission.
• You can now select your Loadout while in the Intermission.
• Teams are now named Alpha and Bravo to better differentiate them.
• The Inventory panel in the sidebar is now functioning.
• Added the option to purchase a Create Clan item directly from the empty clan interface in the sidebar.
• There is now a Confirm dialog when removing players from a clan.
• There is now a small notification graphic in the UI when HRV is ready to be used.
• When typing in chat in-game or holding Tab to view the scoreboard,
the last 3 lines of text typed in chat will now appear above the chat
input.
• Added distance numbers to game objectives.
• New settings have been added to disable automatic weapon reloading and switching when out of ammo.
• Added video setting to enable/disable light shafts.
• Added Smooth FPS video option to allow you to disable the FPS cap.
• Added keybindings to configure the mousewheel weapon switching.
Changes:
• Electric ammo functionality changed. It will now deal 10% reduced
damage to players, but deals 20% extra damage to Hardsuits, Turrets, and
Barricades.
• Adjusted CP rewarded by objectives to make them more consistent between game types.
• Domination points will now pause while they are being hacked, to make hacking them more of a choice.
• Deathmatch game mode renamed to Free For All. Winner is now determined by most points instead of most kills.
• Retrieval game mode renamed to Capture the Flag.
• The Flag icon in Capture the Flag mode now pulses when you are carrying the flag.
• The HRV Decoy image now has several animations to make it more convincing to enemies.
• It is no longer possible to reload while jumping.
• Switching between the Machete and other weapons now takes longer than it would for a Combat Knife.
• Adjusted the throw angle for grenades.
• Changed color of weapon depots seen through HRV.
• The respawn prompt now pulses to draw attention to when you are able to press Space to respawn.
• Scopes now display their zoom amount in the Customization menu.
• The Marketplace now sorts items by the level required to unlock them.
• The Marketplace now displays more information about what you need to do to unlock an item for purchase with GP.
• Various improvements to the Server Browser, Scoreboard, Item Renewal, and Purchase interfaces.
• Improved the After Action Report, which now displays how much GP you earned from the match.
• Quick Purchase settings now have an auto-equip option instead of an auto-activate option.
• The character model is now hidden while viewing the Skill Tree interface.
• Added more descriptive text to the Skill Tree, various gear items, and gun magazines.
• Video Settings now have an Apply button.
• Player names now have a minimum of 3 characters.
• The Pump taunt is now unlocked upon reaching Level 5.
• Improvements to bullet tracer graphics.
• Updated visual quality of gear items.
• Adjusted first person pistol animations.
• Improved audio for most weapons.
Bug Fixes:
• Alt-F4 now properly exits the game.
• Fixed a crash that occurred when alt-tabbing out during the video
settings countdown. The countdown now pauses until you alt-tab back in
to the game.
• Fixed some cases where the player was unable to spawn.
• Explosives such as rockets properly grant kill credit if you die before your target does.
• Various map fixes to Piledriver and the Training Level.
• Corrected some cases where HRV effects would get stuck.
• Corrected some issues with gun attachments for the Burstfire
Rifle, as they were reducing the gun's damage instead of increasing it.
• The Hardsuit will now come to a stop shortly after hitting an object, rather than continuing to charge sideways.
• Fixed several issues preventing Hardsuits from spawning properly.
• Turrets are now properly counted as players for objective-based game types.
• Grenades and mines behave better on elevators.
• The Combat Rifle should no longer get stuck in front of you after firing from tight aim.
• Blood clouds from the railgun no longer continue to appear when visiting the same area later.
• Melee weapons now properly display their impact effects.
• Player name now properly changes color after changing teams.
• Latency numbers displayed for players should now be correct.
• The Settings menu no longer force closes when the level loads in intermission.
• Error messages appear properly if you leave the server unexpectedly.
• Team chat shows up on the HUD chat again.
• Flag colors in CTF are now correct when initially spawning into the game.
• Ammo packs now show up in HRV.
• Fixed some corrupted textures when using low texture settings.
• There is now movement audio while holding the Revival Injector.
• Audio should no longer be out of sync when moving with primary and secondary weapons.
• Corrected some issues where audio volume would be stuck very low after being killed.
[You must be registered and logged in to see this link.]
[You must be registered and logged in to see this link.]

- Fixed HRV crash at round end
- Fixed chat log breaking by HTML characters
- Fixed Stealth use time
- Fixed breaking minigames by firing
- Fixed suicide strings showing up as invalid
- Fixed turrets firing at things they can't see
- Changed DX11 Tesselation slider to a Low / Med / High / Max adjustment
[You must be registered and logged in to see this link.]
[You must be registered and logged in to see this link.]

Blacklight Closed Beta Patch 0.922


Released on November 3rd, 2011
Sorry the patch is so big 1.7 GB
CHANGES:


Added a Refresh button to the Server Browser.

Reduced the damage of the Combat Rifle due to player feedback.

Increased the maximum range of most secondary weapons.

Increased the duration of Deathmatch games to 10 minutes.

Various balance changes to weapon components.

Reduced the score bonuses for Domination mode, and increased the score bonuses for the other game types.

Added a setting to adjust mouse sensitivity while aiming through a scope.

Added a Cancel button to the Logging In panel.

It is now possible to exit hacking prompts by firing your weapon or
moving forward/backward out of their range, similar to weapon depots.

The item expiration prompt now appears during the Intermission
between matches, allowing you to refresh your items immediately rather
than waiting for you to exit to the main menu.

BUG FIXES:


Fixed various issues that were preventing players from connecting to games via the Server Browser.

There is now an error message in the Server Browser when you
attempt to join a match that has less than one minute remaining or that
is currently transitioning back to the Intermission.

The Quick Match button will no longer attempt to connect you to the first server on the list if that server is full.

The Server Browser was showing player counts that were up to 30
seconds out of date, causing full servers to look like they had space
available. This has been corrected.

Fixed an issue where players would be unable to fire if they aimed with their scope while holding down the shift key.

The hack prompt for gate controls and Domination points should now only appear when you are actually able to hack.

The Tesselation slider in the Video Settings menu is no longer the opposite of what it should be.

The cooldown on the stealth cloak is now displayed on its ammo bar.

Menu buttons will no longer display "Label" text if you were sitting in the settings menu during a map transition.

Corrected various locations where it was possible to summon hardsuits onto signs or rooftops.

Corrected a truck in Piledriver that would flip over in certain circumstances.

A box in Piledriver that would suddenly light up as you approached it has been corrected.

Removed the collision on the hoses on the ground in Piledriver and Heavy Metal.

There is now a tarmac visible outside the hangar doors in the training level, rather than it just displaying empty sky.

Corrected animations for female characters when holding a Revival Injector.

Voiceovers in the Training Level will no longer overlap each other.

Footstep audio in the Training Level should now play properly.

The corrosive grenade effect now has audio.

The HRV audio no longer persists if it is turned off immediately after being turned on.

HRV
The first in-game tool that players should learn how to
use effectively is the Hyper Reality Visor or HRV for short. Pressing V
will activate HRV enabling the player to see through walls, locate
opponents, team mates, weapon depots, and even detect a weak point in
the structure of the Hardsuit.
[You must be registered and logged in to see this link.]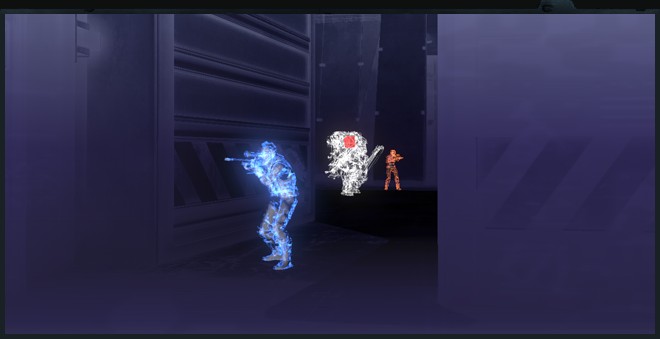 While HRV is active weapon depots will glow light blue, team mates
blue, and the opposing team orange. Keep in mind that once the player
has used HRV it will take a short period of time for the ability to
recharge before it can be used again. Knowing the location of the enemy
is vital to success. Pairing good communication with the extremely
useful HRV will lead your team to victory.
Weapon Depots
Weapon depots are small kiosks scattered throughout
each map where players can spend combat points earned in battle to
obtain upgraded weapons, refill ammo and health and deploy the
obliterating Hardsuit.
Use HRV to locate a weapon depot and press E to pull up the list of
items available to purchase. Scroll through the items available to
check out the CP cost, and press the space bar to make a selection. The
weapon depot loadouts are customizable and can be changed in the armory.
Buyer beware, while shopping for an upgrade players are prone to being
shot down, allowing another player to take the purchase.
[You must be registered and logged in to see this link.]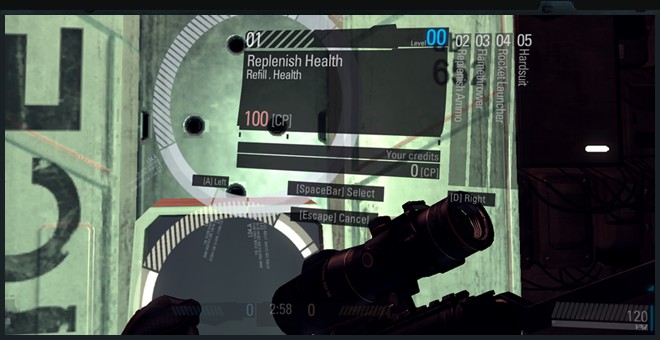 Hardsuit
Armed with a minigun and railgun the Hardsuit is the
ultimate weapon. Purchase a laser designator at a weapon depot and find
an empty spot on the ground with a clear descent path from the sky.
Hold down fire for a few seconds to trigger the drop.
[You must be registered and logged in to see this link.]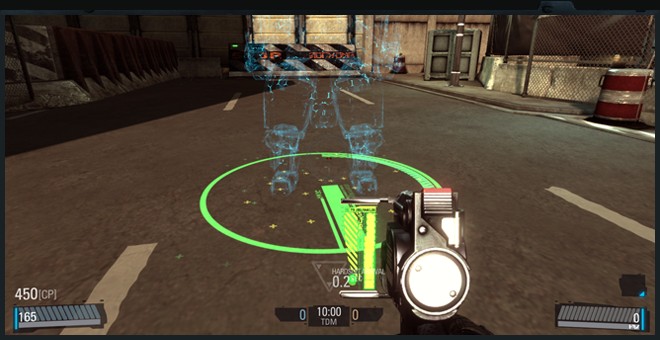 This would also be a good time to activate HRV to ensure there
aren't any lurking players waiting to shoot you down and steal the suit
once it lands. Although the Hardsuit is incredibly difficult to take
down, it isn't impossible to destroy. The flamethrower will effectively
burn the opponent out of the suit allowing a player to steal it once the
enemy has been eliminated. Or simply use the HRV to detect a randomly
generated weak point in the suit. Shooting the weak point will cause the
suit to take ten times normal damage.
[You must be registered and logged in to see this link.]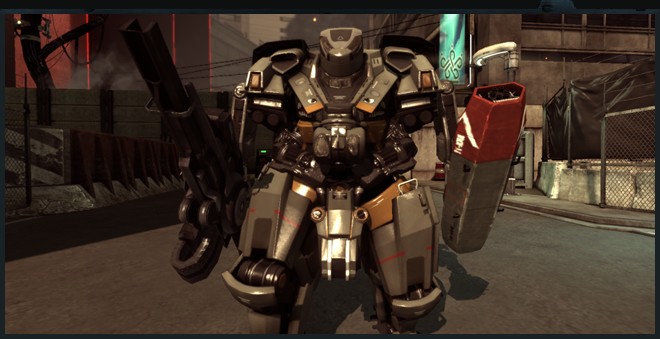 DownloadTo play Blacklight: Retribution, you must download and install the
game client. It's free to download and play, so get started today!
[You must be registered and logged in to see this link.]